Friis, New Zealand Home page |
home




Ireland July 2000 With Gerda and Jan-Erick from Stockholm
| | |
| --- | --- |
| Breakfast in Clifden with Gerda & Jan-Erick | Westport |

Just before we left NZ, we found out that our good Swedish friends, Gerda & Jan-Erick were going to be in Ireland while we were in UK.
They were with us in Tuscany last year, and came to Denmark to see us the year before. Neither Peter or I had been to Ireland, so this seemed a great opportunity.
We flew to Dublin, and picked up a rental car. Drove straight west to Galway, much further than I thought (they still use miles not km).
The cross country drive was rather dull. We met up with Gerda and Jan-Erick in Galway where we had a pub lunch, while it poured outside.
After lunch we headed further to Clifden, along the narrow coast roads. Lovely scenery, very rugged, and full of rocks. No villages or shops along the way, but many lovely good size houses that looked very new. Many rock walls under construction.
We found a lovely B/B right in the middle of town, and then found parking right outside.
The next day we did more driving on small roads, heading nor/west towards Westport. Hillier country side and not quite so rocky.
Had a lovely lunch by a loch. It was even quite warm, wore shorts all day and didn't get cold.
The next and final day in Ireland, Peter and Jan-Erick played golf, Gerda and I checked out the shops.

Conneemarra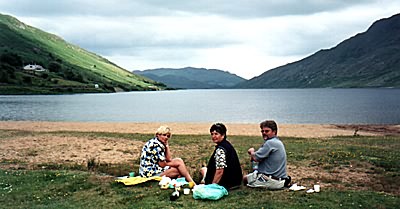 Lunch by the loch.