Click on the 1st photo in each line to see enlargements.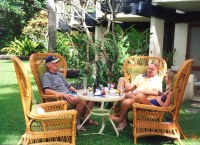 Lunch outside Anne-Marie's and Martin's Unit. Bought rolls, chips and a good bottle of wine.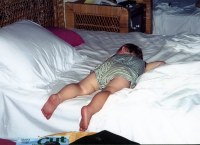 Peter's been looking after Henry. But there is only so much a little Boy can take. About 10.30am he walked back to our unit, crawled up on our bed and went to sleep.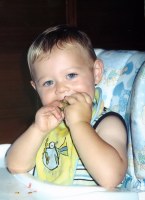 Henry's favourite food.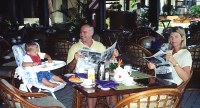 Breakfast: We were lucky enouhg to get a paper delivered every day.
Breakfast was great. Fruit, pastries, cereal, bacon etc. It was included in our room rate. Peter and Martin pigged out every morning, with the excuse they were not going to eat lunch. Peter usually forgot.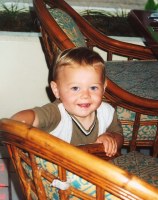 Every morning after breakfast, henry would walk around the restaurant, checking the fans. He has always been fascinated by fans, so this was heaven. Apart from us the staff was always keen to keep an eye on him, and stop him from falling down the steps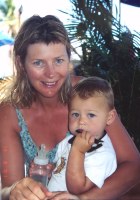 . The Fijians loved Henry, and were always chatting to him, and were rewarded by his lovely smile.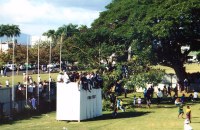 We went to see Fiji play Tonga and win. It was my first real Rugby game. Good fun. We had assigned seats, but nobody took any notice of that, and as we arrived late, there were no seats left. Still we managed.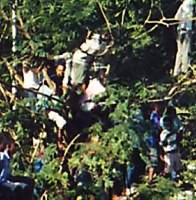 This is a closeup of the tree on the left. Amazing that so many people could fit in one tree.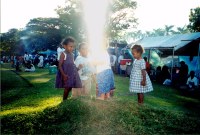 Game's about to start: Drums roll, Croud roar, and Henry screams. This was not his idea of fun. So Anne-Marie took him outside the ground, where the locals had good fun, and Henry found lots of little Fijian girls to play with.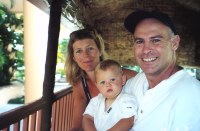 The Bula Bus, The complex had a free shuttle that ran between the 3 properties. Henry just loved it. Actually anything with wheels was just the best.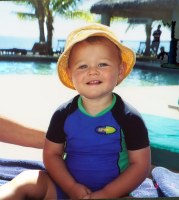 Hours in the pool everyday.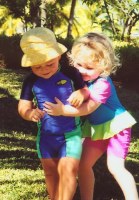 Henry and his girlfriend Alexis. Alexis was 2.5, and just loved Henry.